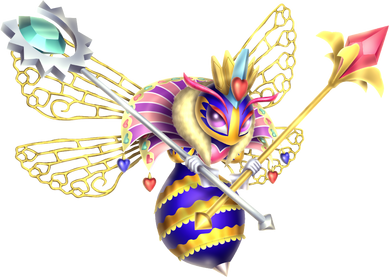 Constantine Sectonia III was a Queen of Floralia and the Lordess of the Dreamstalk. She used to be a fair and just ruler, but was corrupted by the Dimensional Mirror.
She turned into a tyrannical dictator, oppressing the sky fairies, and causing mischief.
Eventually, She was defeated by Kirby in an epic battle at the very top of the Dreamstalk. But, she soon came back to life, thanks to Dark Matter in Journey to Pufftop.
Dark Matter had possessed Konk, and eventually, possessed Sectonia's remains.
Starfy traveled to her castle, and defeated Sectonia and Dark Matter, restoring the balance of peace to all of Pop Star.
Fun Fact: She used to look just like her servant, Taranza, as she was his half-sister.