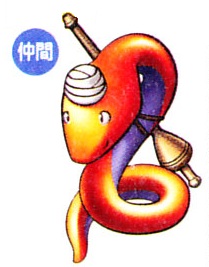 Mango known as Burako in Japan, is a Bush Viper, and an ally of Starfy and Co.
She lives in the Jungle surrounding Flamer Volcano.
She makes an appearance in Densetsu no Stafy 3.
During the events of Starfy 3,
Ogura, while on a mad rampage across Pop Star, smashes all of her collectible clay pots!
When Starfy, Starly and Moe find her, she points them in the direction that Ogura went.