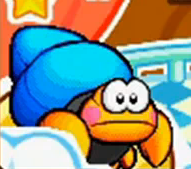 Herbert is the Yang to His Big Brother, Herman's Ying.
These two siblings were hatched from the same clutch of eggs, and were inseparable from day one!
Even though today, they live in different parts of Pop Star, they still visit each other, whenever possible.
Herbert used to hold the Pufftop Juggling record, until Starfy usurped him in a juggling contest.
Go figure.